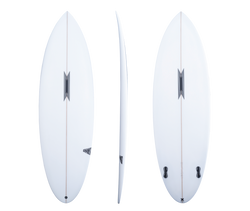 Pigdog Twin

TWIN FIN RADNESS

The Original Pig Dog (First Released in 2010), with its curvy outline, wide nose, and pulled in tail make it a perfect fit for pulling in under the lip or taking off deep. 
The Pigdog Twin was the result of some conversations between the collective as to how the shape might work as a pure twin. With the wider "dad" dimensions to give the board a wider versatility, and the fin position changed to suit a larger upright fin (such as the FCS Power Twin or the Futures EN) to give hold and control with tons of drive and speed, the pigdog twin was born and has been blowing minds ever since. If you are looking to spice up your surfing with a versatile, fun board that can be surfed as hard or as easy as you like - look no further.
All boards are built to order with wait times approx. 3-4 weeks for PU and 4 - 6 weeks for EPS.

| | |
| --- | --- |
| Wave Quality | Average to Good conditions |
| Wave Size | 2-4 feet |
| Best Performance | 2 feet plus |
| Ability/Experience | Beginner to advanced |
| Rocker | Medium rocker throughout |
| Rails | Slight Chimed rail |
| Outline | Wide point forward with a pulled in tail |
| Bottom | Single to double with vee out the tail |
| Tail Shape | Pintail |
| Fin setup | 5 |
| Construction | PU or order custom if wanting EPS |