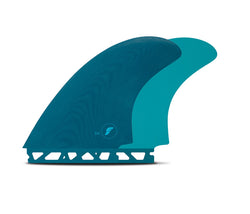 Futures EN Twin fin set - Aqua Blue / Green
The EN Twin is Future's X-Large size twin-fin and a versatile option for multiple board designs and wave conditions. The fiberglass material combined with a wide base and extra tall height gives this fin maximum drive, while the thinner tip offers release off the top.
Superbrand recommend this fin with the Siamese Twin model.